Do You Want To Learn an Effective Martial Art?
The biggest problem you will face learning Martial Arts, is never knowing if what you learn is effective or if it is ever going to work when you actually need it.

At Our school you will learn skills that are instantly effective!

I've eliminated almost all the usual rubbish that is associated with Martial Arts Training! You won't learn pointless Katas or ritualised dances, you won't have to spend hours doing push-ups or sit-ups, you won't spend half the class doing warm-ups and you definitely won't have to learn a foreign language!

What you will do is learn skills that will help you feel more confident and in control of your situation!!


Oh and we don't take ourselves too seriously, our club is about enjoying the process of learning and living the BJJ lifestyle
Welcome to one of New Zealand's Biggest
Brazilian Jiu Jitsu schools.
. We've been helping people, like you, improve their lives through Martial Arts for over 20 years.
Brazilian Jiu Jitsu is a Martial Art that emphasis's practical use of skills in every session.
What does that mean for you?
It means that in
every BJJ session
you attend you will test what you learn and
put what you learn into practice straight away
. That way you can instantly see how effective BJJ can be and you can hone your skills every single session.
What does Our school offer you?
Our school offers you
the biggest group of training partners in New Zealand.
Our school offers you
the biggest purpose built space for training BJJ in Wellington.
Our school offers you
access to some of the worlds best BJJ instructors and competitors.
We have hosted seminars by
No other BJJ school in the entire country
offers you access to that much talent EVER! let alone all in the space of 2 years!
Below is a video done by one of my long time students, this is what Our school means to him and hes a senior Police officer!
Our school also offers you a fun, friendly, safe training environment. (You will not have to deal with Fathead's, Meat-axes, Munters, Assholes, Dickheads or Fuckwits.. We don't tolerate them in our school)
Our school is made up of everyday normal people, Students, Businessmen, Entrepreneurs, Musicians, Actors, Doctors, Lawyers, Accountants, Police, Self Employed people,
just everyday normal people like you
, but with a passion for Brazilian Jiu Jitsu!
What is Brazilian Jiu Jitsu!?
Brazilian Jiu Jitsu is a Grappling Art. First and foremost It teaches control. What you do with that control is up to you. By training at Our school you learn to use that control to subdue or incapacitate your opponent using BJJ techniques like, Control positions, Arm Locks and Chokes.
But the control can be used for many things, control over the opponent and situation gives you control over the outcome. It could be to just subdue them until help arrives or to subdue them to cuff them or extract them from a venue or area. Or to completely incapacitate them so they are no longer a threat!
To allow you to see BJJ for yourself I'm offering a couple of classes for free, so you can find out about one of the best Martial Art self defence systems in the world.


Our school is a fantastic club, the emphasis is on having fun while learning effective skills. Don't take my word for it, read the testimonials to the right and see what others have to say about our school.
At Our school we run Brazilian Jiu Jitsu Beginners classes each week:
Martial Arts Wellington

Monday and Wednesday 6.30 pm
L1 4 College St, Te Aro
Above Milne Print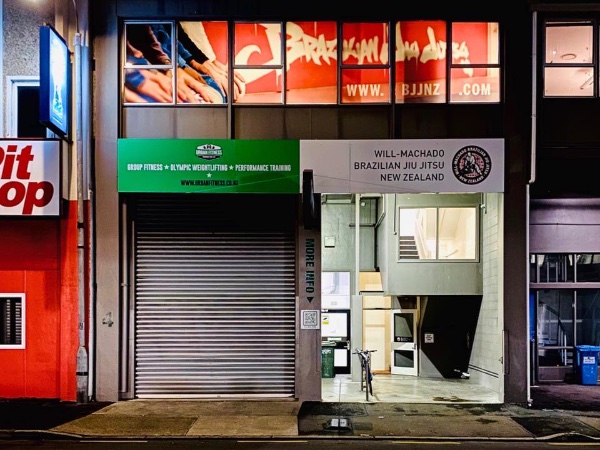 Fill out our online form and we will arrange 2 classes for you, at no cost or obligation.. There is no catch! come and try a class, if you don't like it then don't join. It's that simple!
Now don't get me wrong, Our school is not for everyone. We're a specialist school, which is why I make the free classes offer. If you don't like what we teach then you're under no obligation to join.
Our introductory program is a place where you can try our classes in a safe friendly and fun environment. These are our "Fundamental Skills" classes. They're only 1 hour long. Not a lot of time really, is it??


Filling out the form will also allow you access to our main website, with Pictures and Videos of what we get up to at class, information about training times and fees and all that sort of stuff.

What could be easier?

"So don't hesitate!! fill out the form and take the first step.

"We look forward to meeting you soon."
Martial Arts Wellington,
Wellington
New Zealand
Our school is affiliated to John Will and BJJ Australasia. We are a Machado School.

Martial Arts Wellington BJJ
L1, 4 College St
Te Aro
Wellington
Above Milne Print